CFA Service: 2021–present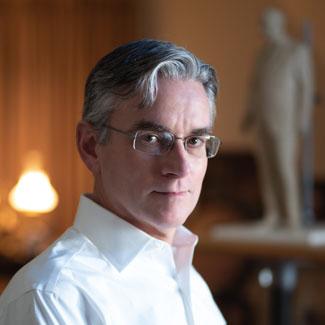 Chas Fagan is a sculptor and painter whose works range from landscape and still-life paintings, to life-size portraits, to monumental bronze and stone sculptures informed by his interest in history. Among his many works are his statues of President Reagan in the Rotunda of the U.S. Capitol and the U.S. Embassy in Berlin; Young Neil Armstrong for Purdue University; the official White House portrait of First Lady Barbara Bush; a wall-sized painting of Dr. Martin Luther King, Jr.'s march to Montgomery; the official portrait of Mother Teresa for her canonization at St. Peter's Basilica in Rome; and a monumental bronze sculpture in Dallas, Non Sibi, in remembrance of the heroes of Flight 93. Recent commissions include a monumental statue of President Lyndon Johnson for the city of Houston and a statue of Reverend Billy Graham for the Statuary Hall Collection in the U.S. Capitol.
Mr. Fagan has been recognized for his work at the Washington National Cathedral, for which he has sculpted figures of Rosa Parks, Elie Wiesel, John Donne, and others, as well as the stone boss in the cathedral's groin vault based on the Biblical passage Let Justice Roll Down Like Waters, and Righteousness Like an Ever-flowing Stream. In addition to pursuing detailed research on the events and individuals which his works portray, he strives to ensure that the interplay between art and its setting is coherent. In recognition of this approach, he was the 2005 recipient of the Eastman Johnson Award of the Union League Club of New York, and the Faith & Form Award of the American Institute of Architects' "Interfaith Forum on Religion, Art & Architecture" in 2007. A self-taught artist, Chas graduated from Yale University with a degree in Soviet Studies.